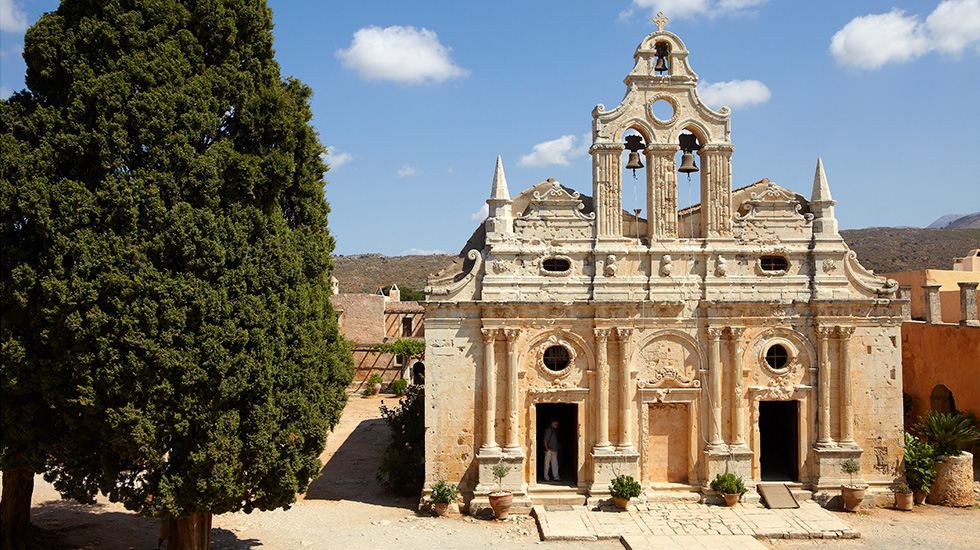 Rethymno Places of interest
The romantic Old Town
Capture Rethymno's lost moments by following one of the many scenic routes around the picturesque city centre. Start from Arkadíou Street, where you can follow a unique cultural route crossing Rethymno's historical centre from east to west.

Fortezza - Venetian fortress
The Venetian Fortress- Rethymno's landmark, the renowned "Fortezza" that stands imposingly on the hill of Paleókastro overlooking the Cretan Sea, as well as the impressive cityscape. Here you can admire beautifully preserved buildings, such as the armoury with its four arched openings, Erofyli theatre, the ruins of the Episcope Palace, the Mosque of Sultan Ibrahim, and the Holy Temple of St. Theodore of Trihinas. Continue to explore Rethymno until you reach the old Venetian Harbour that you will love.


ARCHAEOLOGICAL SITES

Arkadi Monastery
It is located 20 km of Rethymno in a lush green landscape full of oak trees, kermes oak trees, pine trees and vineyards. Built in 1587, its architecture is influenced in various ways by the early renaissance, the gothic and classic style as well as the early baroque style. At first, it acquired reputation as a centre for copying Greek manuscripts. At the same time, it was also renowned for the production of elaborately embroidered church garments. The monastery hosts a museum with an exhibition of findings from the "Arkadi holocaust", heirlooms, weapons, icons, an ossuary, etc.

Preveli Monastery
There is no better place to catch a magnificent view of the Libian Sea. You can admire the wood carved chancel with religious icons that are real masterpieces and represent detailed scenes from the Bible. Some of these icons date back to 1750. The chapel is a two-aisled popular art church, built in 1836. The old abbey is currently used as a guest house. A small museum exhibits religious icons from the 19th century. There are also interesting documents dating back to 1798 as well as the 19th century monastery ledgers.


Sfendoni Cave
Sfendoni Cave is located near the village of Zoniana, 52 kilometers from the town of Rethymno. It is one of the most important caves in Greece, covering an area of about 3.000 square meters. The cave's unique and rare beauty mesmerizes everybody, establishing it as one of Crete's most beautiful caves. Visitors are allowed to explore a route of about 270 m., along which they can admire a variety of impressive formations. Large columns create labyrinthine compartments inside the cave and stalactites and stalagmites of different colours and shapes decorate the cave's chambers.

Ideon Cave
55 km from Heraklio at an altitude of 1100m on the Nida Plateau of Mount Psiloritis.
In mythology, Rhea hid her son Zeus in the cave to save him from his father Kronos. Archaeological findings include bronze statuettes, bronze shields and offerings to Zeus, the father of all gods. Nearby are two springs, Zothimos and Kanithos, that keep their pre-Hellenic names.


Melidoni Cave
Melidoni cave is about 2 kms northwest of Melidoni village and its archaeological findings are displayed in the Archaeological Museum of Rethymno. The cave was also the mythical home of Talos - the giant bronze protector of Crete. Legend says that the sorceress Medea removed his protective thorn and he bled to death.

Don't Miss visiting Crete's Monasteries & Churches.


---
Why Crete
The Area of Rethymno

● Amazing combination of Venetian, Turkish & Cretan architecture

● Narrow streets, minarets, citadels, fishing harbour

● Excellent shopping facilities including Cretan handicrafts, local herbs, clothes and hand-made leather goods

● Just 5,5 kilometres from the hotel

---
Fortezza Castle
Rethymno's landmark and its most important monument. Its dominant position on Paleokastro hill complements that extra charming picture of the city that always seduces visitors.
---